Gamma Sigma Epsilon is a national chemistry honor society founded in 1919 at Davidson College. The purpose of Gamma Sigma Epsilon, as summed up by one of its founding fathers, Malcolm Ray Doubles, was to "unite those men with a high scholastic grade in Chemistry, in Class A colleges, in order to foster a more com­prehensive and cooperative study of that great branch of Science and its immediately allied studies". Its other founders were Manley Arphew Siske and Lewis Porter Good. In 1931 the "fraternity" went co-ed and became an "honor society." Today, there are over forty active chapters throughout the United States.
The National Society is governed by an Executive Council of elected national officers. Chapters are guided by their own locally elected officers. The National Society meets in biennial conventions for the purpose of governance, fellow­ship, and scientific exchange in the form of invited lectures and student research presentations. Each individual giving a paper at the biennial convention receives $25 (the John F. Conn Award), and the outstanding paper presenter receives $50 (the W. Allan Powell award). The DeLap-Holcomb scholarship of $100 and the Roy W. Sonntag award (non-cash award up to $50 value, such as a membership in the American Chemical Society) are given at the local level annually at the discretion of the local chapter to a worthy junior or senior chemistry major.
The 45th Biennial Conference is scheduled for October 11-13, 2013 at Frostburg State University.
The 44th Biennial Conference was held March 4-6, 2011 at UNC, Pembroke. Click here to view the convention minutes.
The 43rd Biennial Conference was held February 27-March 1, 2009 at the College of Mount Saint Vincent in New York City. Click here to view the convention minutes.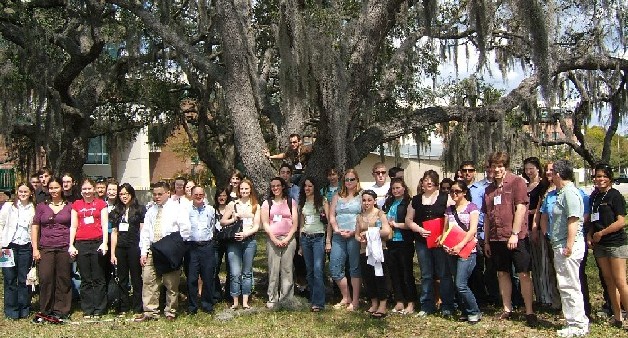 If you do not already have a chemistry honorary, we encourage you to consider forming a chapter of Gamma Sigma Epsilon National Chemistry Honor Society as a way to honor your chemistry students. Further information may be obtained by contacting any one of the national executive officers.